Lynbrook's SK2 system features a 2" sight line with framing members from 2" to 10" in depth. This system is used both for vertical and sloped wall applications. Slope wall members utilize built in condensation gutters. These gutters may be eliminated at vertical walls. Since this system comes with framing members up to 10" in depth, they can support large spans without the use of structural supports.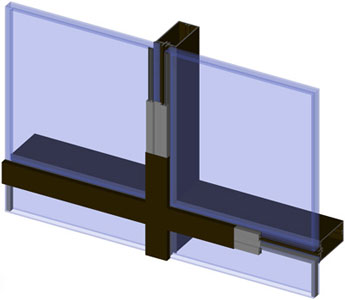 Performance
AIR INFILTRATION .06C.F.M./Ft.² at 6.24 P.S.F.
WATER RESISTANCE up to 8 P.S.F. — No entry
UNIFORM LOAD DEFLECTION to max. L/175

C.R.F. 54

Construction
Framing:
2" Grid System by depth required. 6063-T5 extruded aluminum.
Glazing:
Accommodates up to 1 1/2" thickness.
Finish:
Available in all duronadic or painted finishes.